2010 Senior Nationals & Junior Olympics – Orlando, FL – June 29 – July 4, 2010
CONGRATULATIONS KTA TEAM!
2010 Senior Nationals and Junior Olympics
Orlando, FL – June 29 through July 4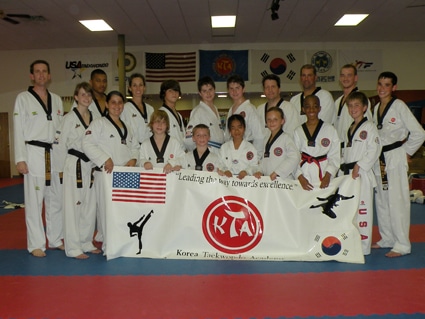 Team Results
Garrett Baker – Quarterfinalist Sparring
Mark Baker – Silver Forms, Quarterfinalist Sparring
Fillip Beyl – Great job!
Jackson Dunlavy – Silver Breaking
Kaitlin Dunlavy – Silver Forms
Adam George – Semifinalist Poomsae Team Trials
Kristi George – 3 Gold, 3 Silver, U.S. Poomsae Team**
Marie George – Great job!
Colette Goad – Gold Sparring
Sean Hammond – Quarterfinalist Forms
Levi King – Gold Forms, Bronze Breaking, Bronze Poomsae
Amy MacLaren – Great job!
Mark MacLaren – Gold Forms, Silver Breaking
Matt MacLaren – Silver Forms
Jeremy Raymer – Bronze Sparring*
Jane Tsai – Bronze Poomsae Team Trials
Jaelin Whittaker – Great job!
Master Cooley – 6 Gold, 1 Bronze, U.S. Poomsae Team**
*By taking Bronze at the Nationals, Mr. Jeremy Raymer has qualified for the World Championship Team Trials in January 2011!
**Master Cooley and Kristi George will represent the United States at the 5th World Poomsae Championships in Uzbekistan this Fall!
Tournament Report by Master Cooley
In late June and early July, twenty-one KTA Team Members from KTA Castleton and KTA Northwest participated at the 2010 U.S. National Championships, Junior Olympics, and U.S. National Poomsae Team Trials in Orlando, Florida! Coaching along with me was Master Cottee and Mr. Jeremy Raymer. Additionally, KTA had three Referee Representatives attend this year – Mr. Tom Gaber and Mr. Bill Thomas from Castleton and Ms. Leisha Osburn from KTA South.
The following is a summary of our experience.
Levi King was our first competitor on Tuesday, June 29th. This was LeviÕs second year competing at the Junior Olympics and he was ready for the challenge. In his opening match Levi executed well throughout all three rounds – showing more exciting techniques and taking more risks than anyone in the division. Going into the second round he was down by three points and was able to come back from that deficit to tie the match. In the event of a tie, there is a sudden death round. During this round, Levi and his competitor continued to exchange techniques and with five seconds left his opponent scored. Although we were disappointed that we could not advance further, I was very proud of how Levi performed and especially proud of his attitude toward his opponent at the end of the match. His opponent went on to take a bronze medal. Elijah Darden also competed on Tuesday and went out early in his first match.
Wednesday, June 30th was a whirlwind day as we had eleven of our team members competing in forms and board breaking divisions! Fillip Beyl, Marie George, Sean Hammond, Amy MacLaren, Quinn Quinn, and Jaelin Whittaker all did a great job and performed well in the extremely competitive environment that only Marie, Sean and Quinn had seen before. For the others it was their first time at the Junior Olympics. Jackson and Kaitlin Dunlavy each came away with a Silver Medal – Jackson in Board Breaking and Kaitlin in Forms. Matt and Mark MacLaren also came away with some hardware. Mark took a Gold Medal in Forms and a Silver Medal in Board Breaking. Matt got a Silver Medal in Forms. Levi King was very hungry after his short day the day before and he bounced back to earn a Gold Medal in Forms, a Bronze Medal in Poomsae, and a Bronze Medal in Board Breaking! Several team members along with Mr. Whittaker and Mr. King were a huge help holding boards and motivating all of our competitors!
Jackson Dunlavy, Marie George, and John Ramsey competed in Sparring on Thursday, July 1st. John won his first match and lost his second. Jackson and Marie lost their first round matches but put forth a great effort. Competition continues to be extremely competitive at this level – especially for Black Belts!
On Friday, July 2nd we had a very strong showing. Garrett Baker, Adam George, Colette Goad, Matt MacLaren and Quinn Quinn all competed in Sparring. Colette earned a Gold Medal! Garrett won his first match and advanced to the quarterfinal round where he was stopped one match shy of medaling. Adam lost to a finalist in his division in his first match. Matt and Quinn also went out in the first round. All performed very well despite some early losses. Coach Jeremy Raymer did a phenomenal job prepping and coaching these teens!
At the same time all this was going on Kristi George, Jane Tsai and I were competing at the U.S. National Poomsae Team Trials on the other side of the venue. Jane took a Bronze Medal in the Female 51+ Division. Kristi took a Silver Medal in the 2nd Female Team Division along with her teammates from Pennsylvania. I had an extremely good day taking a Gold in the MenÕs 41 – 50 Individual Division, Gold (along with Kristi) in the 2nd Pair Division, and Gold in the 2nd Male Team Division along with my teammates from Connecticut and Michigan! Both Kristi and I will be representing the United States at the 5th World Poomsae Championships this fall in Tashkent, Uzbekistan.
The following day, Saturday, July 3rd, Adam George competed at the U.S. National Poomsae Team Trials. Adam advanced into the semi-final round this year, which was a big improvement over last year when he did not advance past the first round. At the National Championships Mark Baker competed in Poomsae picking up a Silver Medal. Kristi George and I also opted to compete at Nationals for additional practice and experience. There were several open divisions we entered. I came away with three more Gold Medals and a Bronze Medal. Kristi pulled three Golds and two more Silvers.
Sunday, July 4th was the first time I had ever seen "fireworks" indoors on the 4th of July! This day saw Mark Baker and Jeremy Raymer, two young men I have had the pleasure of instructing and coaching since they were five and seven, competing in the National Championships in Sparring. Mark competed in Welterweight and Jeremy in Heavyweight. It was the best day of the entire week!
Mark easily advanced past his first round. In his second match, Mark scored a spectacular back spinning kick knockout on his opponent ending the match early. (For those reading this that may not be familiar with elite level Taekwondo sparring competition, knockouts are legal in adult black belt divisions.) This put Mark in the quarterfinal round where he lost a very close match. Mark has been going to college at NYU and it had been a while since I had seen him. It was great to coach him as we have had many opponents over the past sixteen years.
Jeremy had a very close first match to open his day that he won in overtime. He then competed against a familiar opponent from the Army team he had matched with earlier this year and defeated him. This put Jeremy in the semi-finals. Again, he faced a familiar opponent from New York – a former national team member – and narrowly lost his match by a single point! I was very proud of JeremyÕs Bronze Medal performance and he could have easily made the finals.
As most of you in our KTA family know, Jeremy works very hard and has had some tough breaks over the past few years. Two years ago he narrowly lost in the quarterfinals after just coming off an injury. Last year he sustained a different injury that kept him out of the Nationals altogether. He could have easily decided to Òhang it upÓ many times, but he chose to press on. This year was his year to break into a new level and I am confident that this upward trend will continue with him!
Jeremy is a shining example of perseverance and indomitable spirit – which are hallmarks to Taekwondo and keys to success in life. He does not give up! His patience and continual work ethic has paid off and has garnered him a spot at the World Championships Team Trials in January of next year. Of all the successes of the week (including my own) I am most happy about Jeremy.
This year marked the most successful Nationals in over a decade for KTA. We are very excited, but we also realize there is a lot of work to be done to improve for those continuing to compete nationally in the coming year. On behalf of all participants, I would like to thank our sponsors, parents and family members who attended and supported the team during some very long days of competition. In addition we sincerely appreciate the support and encouragement by our entire KTA family throughout the past year.